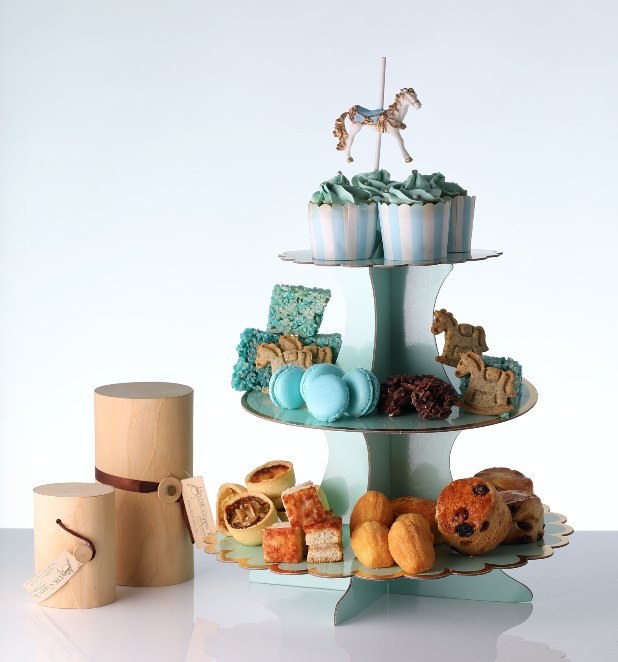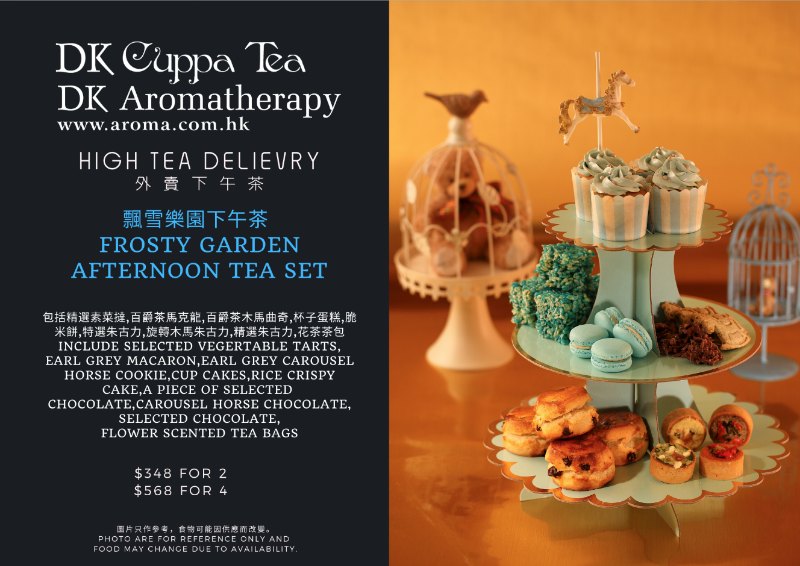 Frosty Garden "Ride-with-You" Set for 2 person
Model: FDCK0023FT2
All countries
Product Description
Planning your party at the Office or Home?
Wanna send a Tea Set as a gift to Someone's Party?
Takeaway or Delivery!
(Pre-order at least 3 days before delivery, last order 3 pm)
**Delivery Charge ~ HK Island HK$50-100; Klowoon HK$90-150; NT HK$120-200
Frosty Garden "Ride-with-You" Set
Take all Frosty delicacies in a handy
Fuel yourself energy in your own garden.
DK Cuppa Tea is delighted to lift you a ride to your frosty garden. This "Ride-With-You" set gathers the essentials to build a garden and fuel you up with frosty energy!
The Frosty Garden "Ride-with-You" Set is available at two convenient locations at DK Cuppa Tea
The build of your frosty garden starts with the foundation with scone and tartlets. The scone is made with natural yeast and it tastes fantastic with Jam, together with the tartlets will give you strength for the frosty sweet.
The snowflake-ridden Earl Grey cupcakes and macarons are too beautiful to eat, with them a mouthful will refresh you from head to button, Earl Grey carousel cookies will settle you down on the ground. The last taste of crispy cake and the chocolate set a finale of your garden building.
The Frosty Garden "Ride-with-You" Set is priced at HKD 348/Set (2 persons serving) or HKD 568/Set (4 persons serving). Having the set riding with you is the best way to motion ourselves in our daily lives.
For 4 person: $568
Earl Grey CupCake 4 pieces
Earl Grey Macaroon 4 pieces
Earl Grey carousel cookies 4pieces
Rice Krispy cake 4 pieces
English Scone 4 pieces
Vegetable Tarts 4 pieces
Chocolate 4 pieces
Rose Jam 2 bottles
High-Tea Stand
or 2 people: $348
Earl Grey CupCake 2 pieces
Earl Grey Macaroon 2 pieces
Earl Grey carousel cookies 2 pieces
Rice Krispy cake 2 pieces
English Scone 2 pieces
Vegetable Tarts 2 pieces
Chocolate 2 pieces
Rose Jam 1 bottle
High-Tea Stand
Delivery charge please call 23863588 for details!
DK Cuppa Tea/ DK Aromatherapy
G/F 19 New Market Street, Sheung Wan, HK
Tel: 23863588 Whatsapp: 97889378
*Food/ tableware maybe we placed it by other food/ tableware due to availability