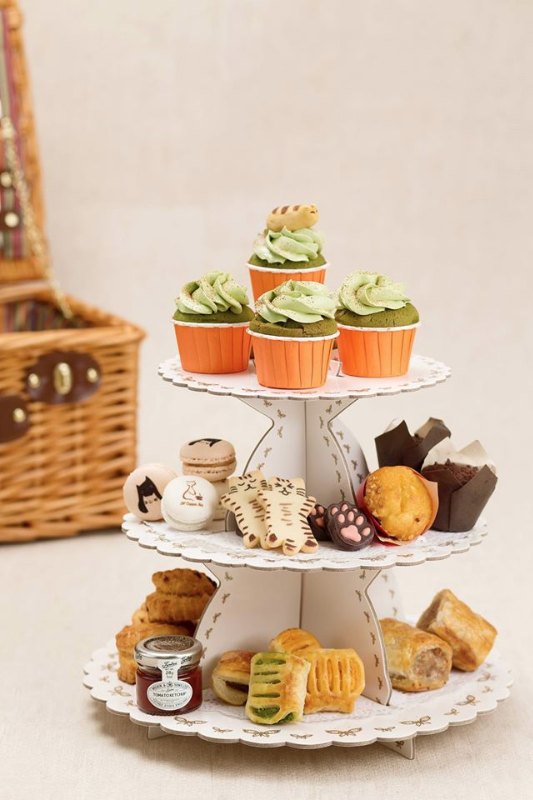 Enchanting Oasis "Pack-up" Set for 4 person
Model:
All countries
Product Description
Planning to have party at home or office? Wanna the beautiful tea set delivery to your door?Enchanting Oasis "Pack-up" Set Bringing with you an oasis full of kittens Sharing to your friends the sweet of idleness
Packing up the mouth-watering savories with kittens will lead you to taste the sweet of idleness, where you find comfortable. Having hanging the Tea Stand in front of you with all the kittens and cupcake will sure help healing yourself.
The Enchanting Oasis "Pack-up" Set is available at two convenient locations at DK Cuppa Tea and DK Aromatherapy in Soho. (Pre-order at least 2 days before)
Eating is always a refreshment to fight to the cool breeze outside. The sausage rolls will sure give you strength and warm up your stomach and the mini-Muffin will come handy if you ask for more. The Scone with Jam will be right after so you are sweetened to play with all the kittens.
Those kittens are on all rest at everywhere on the stand, they are with the Macaroon, Cookies or you may just find the paw. Lastly the green-tea cupcake will rest your mind in peace and the mini puff will put you to sleep after having it.
The Enchanting Oasis "Pack-up" Set is priced at HKD 398/Set (2 persons serving) or HKD 698/Set (4 persons serving). Packing up all the kittens and let them teach you the sweetness of idleness!
For 4 person: $698
Green Tea Cupcake 4 pieces
Green Tea Macaroon 4 pieces
Kittens cookies 4 pieces
Mini Muffins 4 pieces
English Scone 4 pieces
Sausage Roll 4 pieces
Kittens Paw Chocolate 4 pieces
Ketchup and Jam 2 pieces
High-tea Stand
For 2person: $398
Green Tea Cup Cake 2 pieces
Green Tea Macaroon 2 pieces
Kitten cookies 2 pieces
Mini Muffins 2 pieces
English Scone 2 pieces
Sausage Roll 2 pieces
Kittens Paw Chocolate 2 pieces
Ketchup and Jam1 piece
High-tea Stand
Delivery charge please call 23863588 for details!