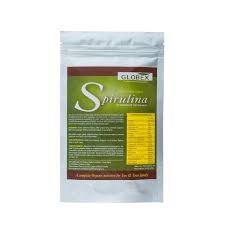 Globex Spirulina
Model: FDSP001
All countries
Product Description
Globex Spirulina is probably the best Spirulina in the world. It is grown in a non agriculture and non industrialised land far from ground water and air pollution, allow us to bring a PURE and FRESH Organic Spirulina to you. Globex Spirulina is scientifically grown under stringent quality control ensure the best quality 100% vegan 100% safe, non toxic, chemical free Spirulina.

Globex Spirulina provides much higher and dense nutrients naturally packed with up to 65% of protein with all 8 essential amino acids, essential fatty acids (good fat), polysaccharides (good carbohydrates), high amount of vitamins specially vitamin B complex, variety of minerals special zinc, selenium, iron, calcium, magnesium and potassium, fleet of antioxidants pigments with very high ORAC value over 22,400 and enzymes.

Globex Spirulina is made with 100% certified organic Spirulina powder free from additives, preservatives and other harmful chemicals. It is certified Organic, ISO 9001, ISO14000, ISO 22000 (for food safety), Koshar and Halal. It is also certified through ingredient verification program of United State Pharmacopeia (USP). It is also GRAS (Generally Recognized as Safe) certified.

Globex Spirulina is beneficial for all the age group. 2 gram of Globex Spirulina provides over 200 types of various nutrients every day to fill the gap in your diet. Globex Spirulina is beneficial for keeping you healthy, energetic and fit through out the day.