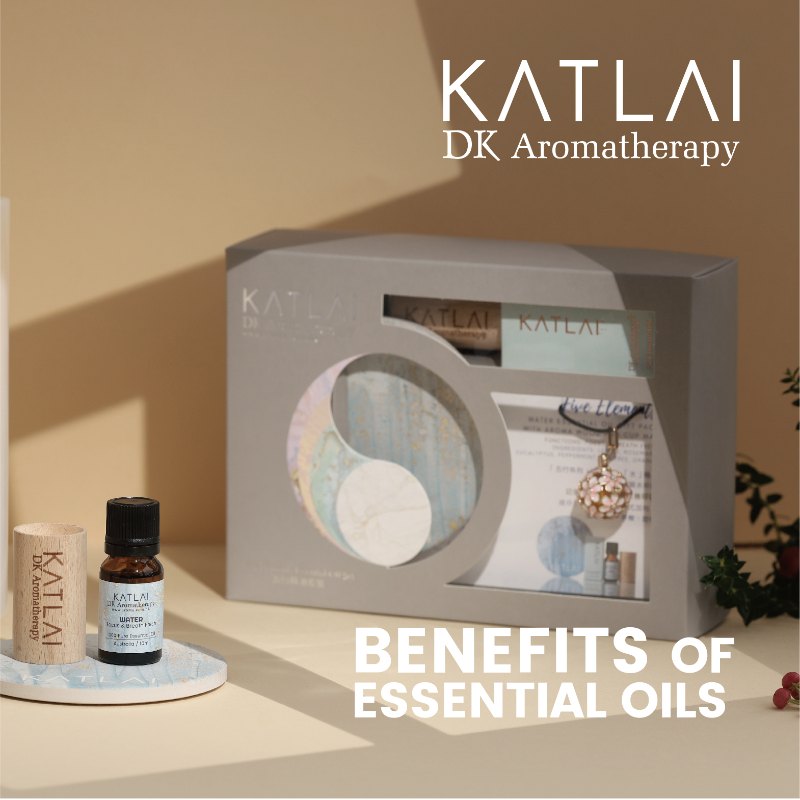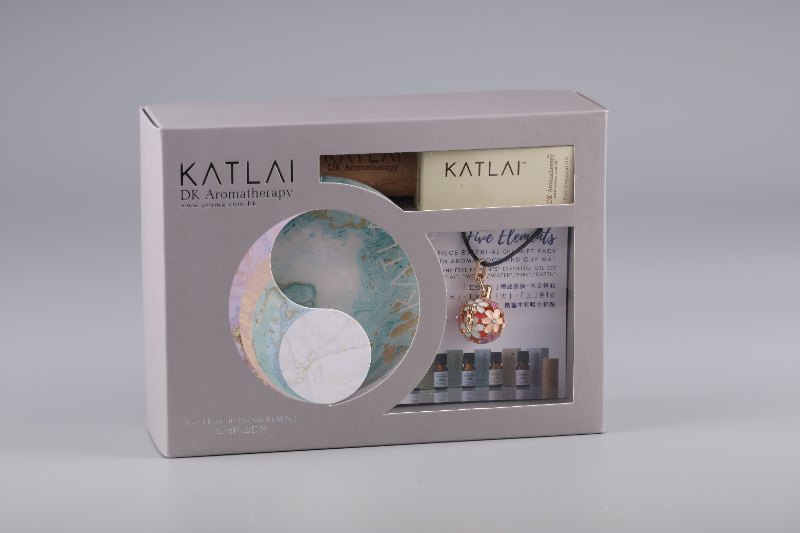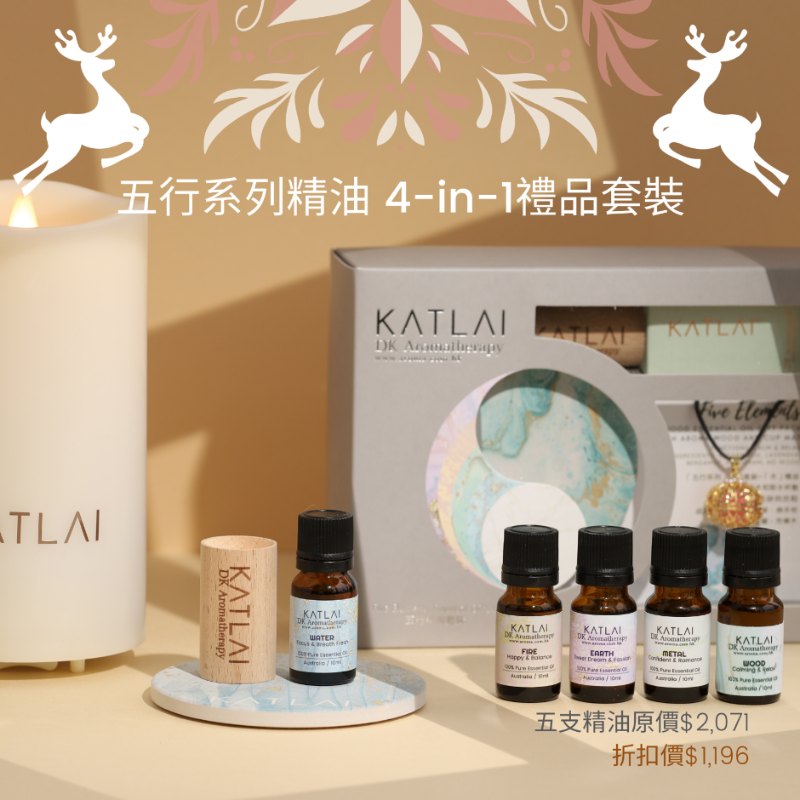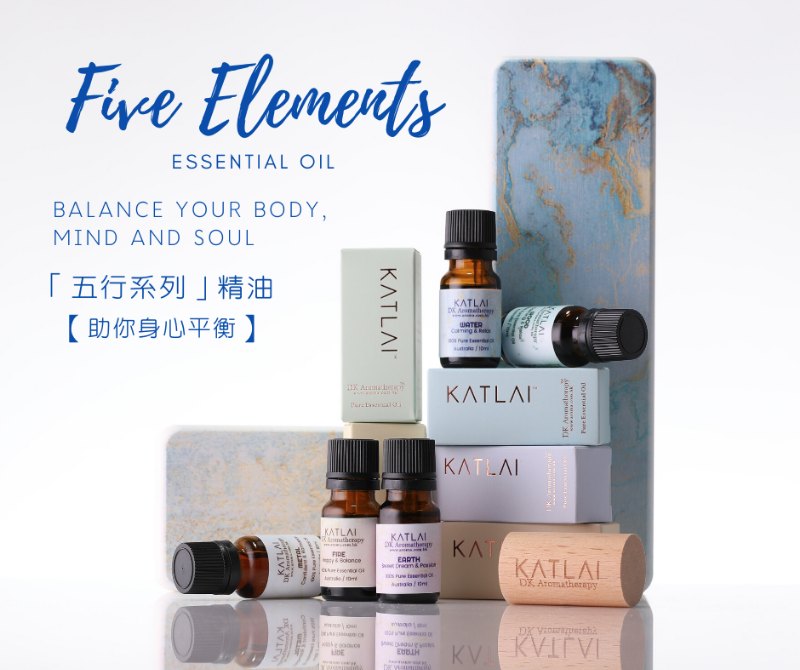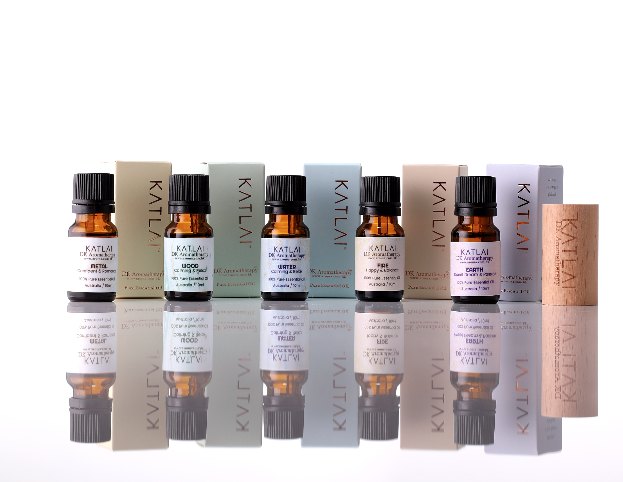 Five Element Essential Oil Set (5 pieces)
Model: OSAA61
All countries
Product Description
Five Elements Essential Oil set 10ml (5 pieces) with Aroma wood
and Cup Mat and Aroma necklace> $1196 (Original price $2071)

DK Aromatherapy's newly launched "Five Elements Essential Oil" is a blend of essential oils with different odours by the "Five Elements" concept of Chinese medicine.




Benefits of our Five Elements Essential Oil:


Metal - Confident & Fascination:

Ingredients: Frankincense, Jasmine, Ylang Ylang, Bergamot, Patchouli
The metal blend can buff your confidence and loveliness. On the occasion of sales, presentation or social event, the metal blend is a spell of charm. The metal blend is fascinating, so do you.


Wood - Calm & Relax:

Ingredients: Cedarwood, Lavender, Bergamot, Marjoram, Ho Wood
The wood blend provides a comforting sphere for its user. Whenever you feel tensed, slide the Aroma Pod and feel the wood. It is one of your best to take a break and recharge your energy.


Water - Focus & Breath Fresh:

Ingredients: Lemon, Rosemary, Eucalyptus, Peppermint, Tea Tree, Orange
The water blend is one of your best remedies when you have to stay focus. It helps in two ways, which you usually need both. It could boost concentration instantly and increase working performance or study focus. Moreover, it helps relieve blocked nose so you can breathe more fresh air and lift your spirit.


Fire - Happy & Balance:

Ingredients: Orange, Grapefruit, May Chang, Rose Geranium
The fire blend is a daily companion for many. It is always attractive to be a joyful and warm person, and the fire blended is a balanced boost of our emotions. Wear it anytime and keep yourself optimistic and loving.


Earth - Sweet Dream & Passion:
Ingredients: Rose Geranium, Bergamot, Neroli, Petitgrain, Vetiver
The earth blend is restful. It is like the wind in the trees, with the taste of mud, grass, flower, and fruit. It is sweet and calm. It is joyfully peaceful. Use it before you sleep or have a short break and you will feel the greatness of mother nature.
"Five Elements Series" essential oils help you balance your body and mind
The latest "Five Elements Series" essential oils include five odours: Mental, Wood, Water, Fire, Earth
Each essential oil has different effects,
It helps you relax and relieve your emotions.