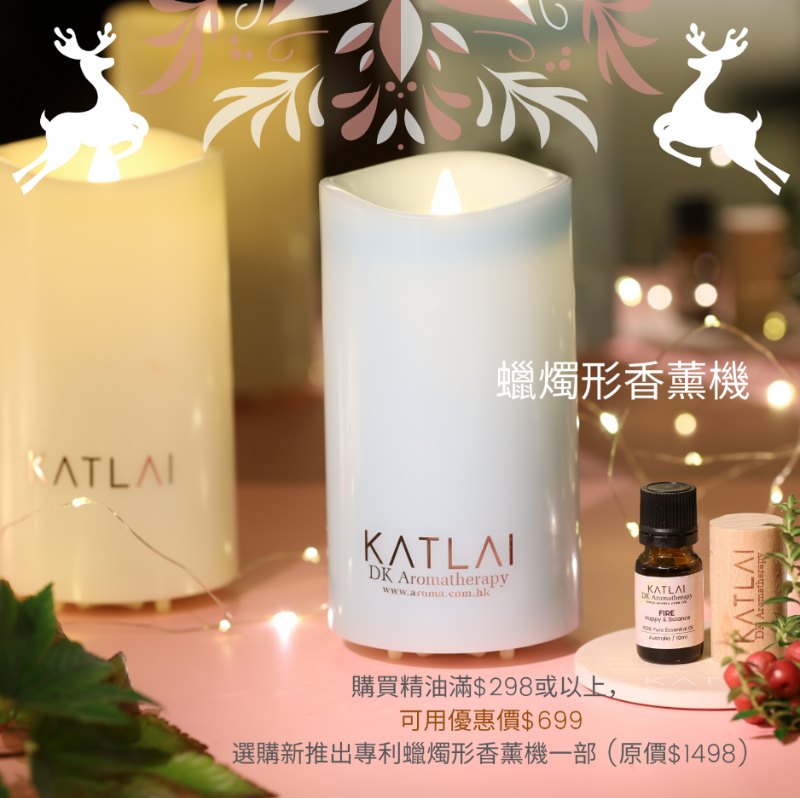 Candle Portable Aroma Diffuser and 5 Element Essential Oil
Model: BRTR40
All countries
Product Description
【DK Exclusive Patented Design】Modern Candleshop NOW!


Candle Portable Aroma Diffuser and 5 Element Essential Oil

(includes 1 bottle of Five Elements essential oil, aroma wood, and a cup mat)


Designed #aromadiffuser (wireless remote control)
DK grants you all your wishes towards BIGGEST Life Enrichment!
DIY unique romantic moments in life anytime
Enjoy #MEtime by lighting up our candle & Restore Body-Mind-Spirit
Our new exclusive product – portable candle aroma diffuser with exclusive patented safety design not only allows you to use in your room, but also during your shower moments!
All you need to do is to pug in essential oil into the diffuser!
Our new diffuser together with Five Elements Essential Oil set (includes a bottle of Five Elements essential oil, an aroma wood and a cup mat) is at $999.
Offer applied to ALL LOG-ON outlets (except Tseung Kwan O outlet).
"Five Elements" essential oils help you balance your body, mind and soul! Which included "Metal, Wood, Water, Fire, Earth". Each essential oil has different effects, which can help you relax your body and mind, balance your emotions!
Let's Aromatherapy lift you!
Earth - Sweet Dream & Passion:
Ingredients: Rose Geranium, Bergamot, Neroli, Petitgrain, Vetiver
The earth blend is restful. It is like the wind in the trees, with the taste of mud, grass, flower, and fruit. It is sweet and calm. It is joyfully peaceful. Use it before you sleep or have a short break and you will feel the greatness of mother nature.