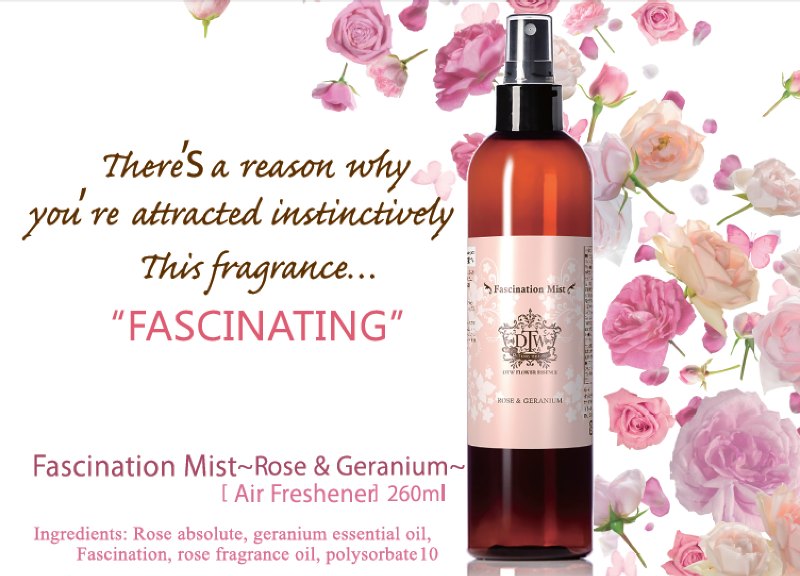 Fascination Flower Essence Mist 260ml
Model: FEDT020
All countries
Product Description
Fascination Mist 260ml
Ingredients: Rose absolute, Geranium. Fascination, Rose Fragrance oil, polysorbate 10
Maximize your feminine radiance- a flower essence blend named "Fascination"
DTW flower essences [Fascination] –Increase the feminine power-
Have you left the "woman" you behind?
Do you wish to let your inner "woman" shine again?
"Fascination" is a flower essence formula created to heighten feminine power and increase radiance in women. We blended essences that draw out hidden beauty within you and support you to shine while enjoying being a woman. This formula also supports you to enhance your feminine charm to attract romantic love and attention.
Buzzing the Japanese media every month… "A (The?) beauty serum for inner wellness" DTW flower essences!
"A(The?) beauty serum for inner wellness" The power of DTW flower essences' "Fascination" supports your beauty
If you're worried or stressed…you look gloomy, your skin roughens, you lose the motivation to care how you look
"I want to be beautiful" Your inner realization is the first step toward beauty
This means use a beauty product that works on the inside to let your radiance overflow from within!
Flower essence combination:
Alpine Lily
Helps integrating feminine radiance and your uniqueness to increase your overall attractiveness.

Saskatoon
Supports healthy relationships by helping you to accept others' needs and responsibilities as they are, and by balancing your sense of boundary when you're interfering too much.

Bleeding Heart
Relieves the tendency to be overly dependent on your partner. Strengthening your heart, this essence helps you to love yourself and to accept your partner's freedom so to create a relationship full of true love.

Mariposa Lily
Increases social cooperativeness and heightens the feminine energy and sensitivity to be empathic to others.

Tiger Lily
Balances the masculine energy within and eases overly strong self-assertion.

Easter Lily
Balances when you are either overly suppressed or unrestricted about sexuality.

Snapdragon
Balances sexual and instinctual energies. Especially, this essence relieves anger and the critical tendency toward the opposite sex.

Pussy-Toes Everlasting
Helps you to create a strong bond with your partner and to sustain a long-lasting relationship without giving up out of anxiety or anger.

Meadow Rue
Increases your pheromones to attract romantic attention and love.

Pretty Face
Relieves the tendency to be overly concerned about appearance or to judge people only by looks. Helps those who lack self-confidence and fall into self-denial due to too much worry about how they look.

Quince
Enhances lovingness, magnanimity, and femininity. Eases the tendency to fight or to get into conflict with others.