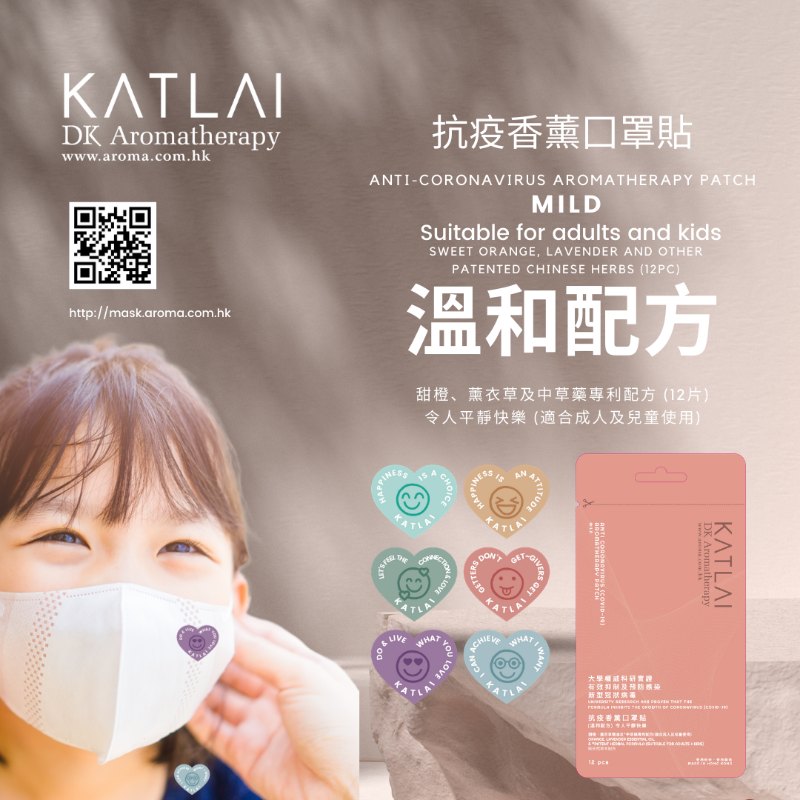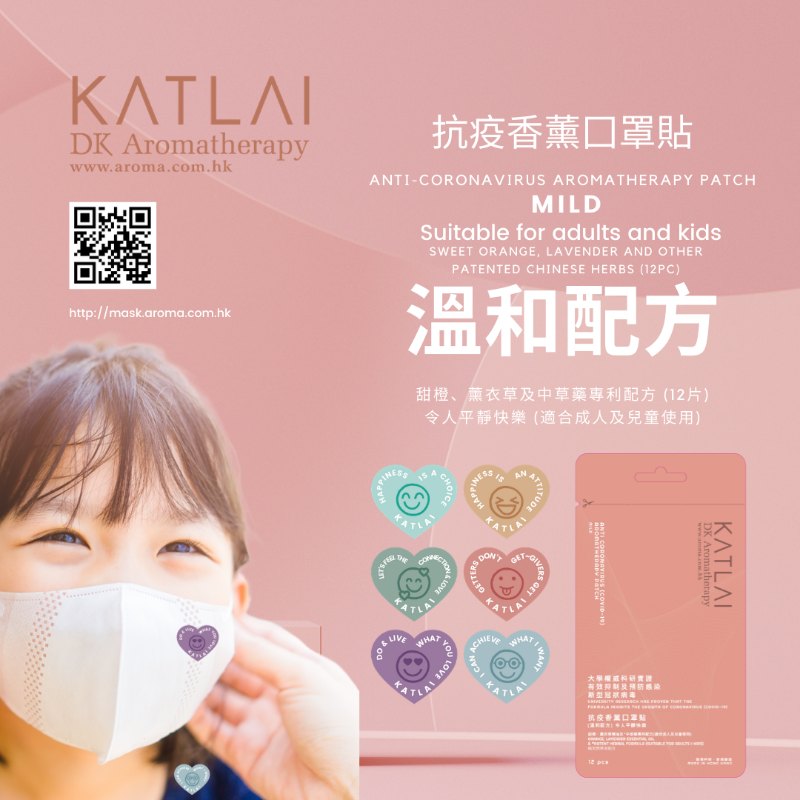 Anti Coronavirus Mild Aromatherapy Patch 12pc
Model: MSBC0004
All countries
Product Description
Anti Coronavirus Mild Aromatherapy Patch
University research proved to inhibit the growth of coronavirus while eliminating SA and other bacteria effectively.
Natural Aroma Formula For Promotes Relaxation and A Happy Mood
Sweet Orange, Lavender and other patented Chinese Herbs
Product Information (Mild)
Anti Coronavirus Mild Aromatherapy Patch is an effective antiviral and anti-bacterial protection patch co-developed by the Center for Chinese Medicine R&D from one of the most reputable universities in Hong Kong, and KAT LAI Wellness Limited. Our unique Anti-SARS-CoV-2 formula is safe to administer by human and has been proven to effectively inhibit of SARS-CoV-2 virus, Staphylococcus aureus (SA) and Edwardsiella tarda (Et), etc under ELISA and HPLC screening assay.
Our patent essential oil formula could inhibit and kill the Spike protein on the shell of the SARS-CoV-2 virus. After the particles of the herbal extracts enter our respiratory tract, the aroma particles will spread all over the surface of the bronchial branches. When the upper respiratory tract is invaded and infected by the incoming SARS-CoV-2 virus, its spike protein will be inhibited by the extract of Chinese medicine to prevent its binding with the angiotensin-converting enzyme 2 (ACE-2) in the human receptor. The virus activity can be effectively inhibited. By doing so, natural and effective antibacterial protection is achieved.

Anti Coronavirus Mild Aromatherapy Patch is suitable for adults and kids to use. The natural aroma from Sweet Orange and Lavender effectively promotes relaxation and a happy mood and gives you better protection and a fresher experience when wearing the mask.
· Orange
· Place of origin: Central Asia
· Function: Sedative, Skincare
· Scientific research verification: According to research conducted by the University of Florence, subjects who have inhaled orange essential oil for 120 seconds show a significant increase in the high-frequency component of HRV, while systolic and diastolic blood pressure was significantly lower. This indicates that inhalation of orange essential oil induces relaxation in humans.
· Lavender
· Place of origin: Mediterannean Sea Coastal countries
· Function: Antibacterial, Sedative, Anti-depression, Carminative, Anti-inflammatory
· Scientific research verification: According to scientific research, the essential oil extracted from L. Angustifolia and L.latifolia have comparable antibacterial effects to tea tree oil, with greater than 0.32% efficiency against E. coli and 0.32% against Streptococcus Pyogenes.
Instruction
Tear off the top of the bag, take aromatherapy out from the badge, stick it onto the outside of your masks or stick it on a cloth where it is within 20cm of your nose. Seal the bag immediately to avoid volatilization and oxidation of product solution that may lower the effectiveness of product protective function. Suggest changing once every 4 hours.
Precautions
External use only

Place products in dry and cool places, avoid direct contact with sunlight or heat.

If you are not feeling well when using this product, stop using it immediately and seek professional medical advice.

Products are tested to be effective to eliminate virus and bacteria when used properly, but you may still be infected through other contacts.

Chronic patients are suggested to seek professional medical advice on using the product.

Product life and effectiveness may vary based on the using condition and placement.

Olfactory fatigue may occur temporarily towards the product's scent, the product will remain effective for 4 hours upon being taken out from the packaging.

Skin irritation may occur if the product is directly in contact with the skin for a certain period of time due to the high intensity of essential oil in the formula. It is suggested to use the product on the outer side of your mask or place it on a coat without direct contact with the skin.