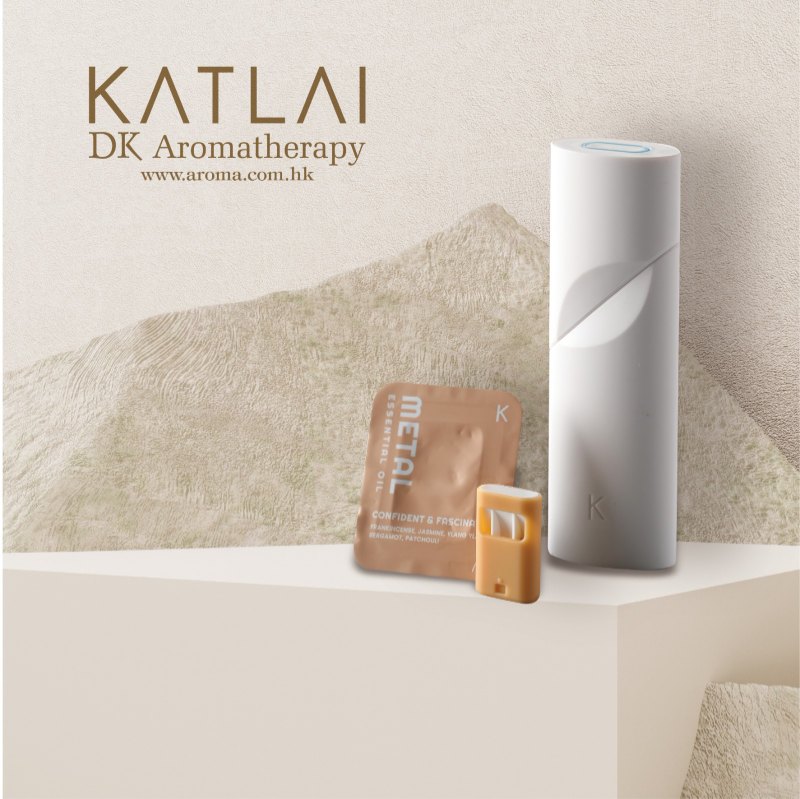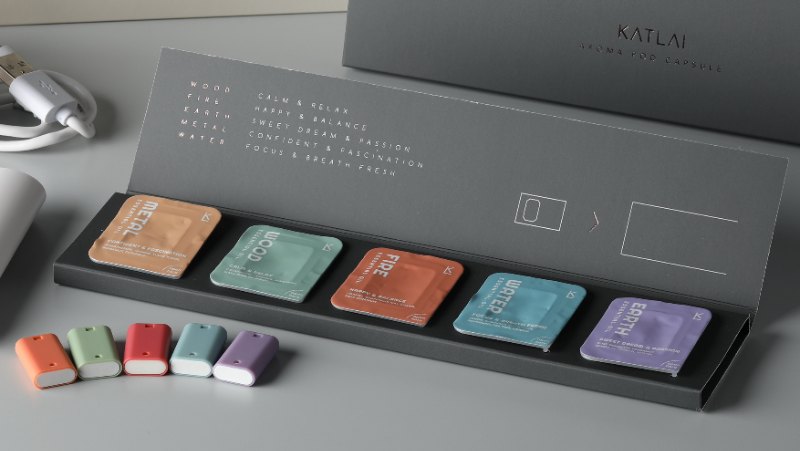 Aroma Pod Capsule - Metal
Model: DK-UPD05
All countries
Product Description
Stanford University's research shows aromatherapy and breathing exercises can effectively balance, bring positivity, improve insomnia, listening skills and ability to focus, free testing available to help to be happier! Book now!
Select a date and time for your FREE appointment with our health consultant to learn how to use the Aroma Pod and test it out with our Heartmath machine! The FREE 1 Week Anti-Coronavirus Protection Set will be redeemed at your appointment.
5 Element Capsule - Metal (5 capsules/ set)
Recipe:

METAL 金:Confident and Fascination
Frankincense, Jasmine, Ylang Ylang, Bergamot, Patchouli
The metal blend can buff your confidence and loveliness. On the occasion of sales, presentation or social event, the metal blend is a spell of charm. The metal blend is fascinating, so do you.
Share happiness, Care community, Contribute to Hong Kong
Research in Hong Kong, Caring for Hong Kong
Aroma Pod, Aroma Pod, together with 5-sense capsules, can surround users with aroma all day long. During inhalation, a natural aroma enters the central nervous system and relieves stress.
7 Selling Points
1.Can be used while travelling, applicable to any location.2.
2. Meet the needs of aromatherapy at all times
3.Concise and stylish design, compared with traditional aroma diffuser and aroma oil.
4.Portable body for easy carrying
5.Served as a generous present in a modern and simplistic design.
6.Equipped with refills of aroma capsule, which is portable and space-saving.
7.A jacket made of high-quality cowhide stores aroma pod and capsules separately.
The concise and portable Aroma Pod only weighs 29g. When in use, an aroma capsule can be inserted into the slot followed by gently pushing up the case. You can immediately be surrounded with a personal aroma like being in nature, temporarily isolated from disturbance. Aroma Pod is a must for fashion icons.
Besides, aromatherapy has been deemed as a natural therapy that uses different functions of essential oil to strike a balance between physical and mental health.
DK Aromatherapy presents you with the "Five Elements" essential oils, either with five identical aroma capsules or 5 different aroma capsules in a set. The five aromas are "Metal, Wood, Water, Fire, Earth" respectively, which are blended by the "Five Elements" concept of Chinese medicine. The 5 effective routines help prevent and treat stress, sadness, insomnia, depression and emotional problems.
Users can simply pick their capsule of the day and enjoy the aroma.


Instruction
Charge the Aroma Pod, inset the aroma capsule and gently push up the Aroma Pod for the scent. Suggested to turn on Aroma Pod for 5-10 minutes per day, with each capsule lasting for 45-60 minutes which is equivalent to usage for a week.
劃時代心腦神經科學
Cutting Edge Heart-Brain Science
For more than 25 years, HeartMath Institute has been researching the heart-brain connection and learning how the heart influences our perceptions, emotions, intuition and health.
HeartMath helps you tap into the power and intelligence of your heart – your heart's intuition – which awakens you to the best version of yourself.
Studies conducted with over 11,500* people have shown improvements in mental & emotional well-being in just 6-9 weeks using HeartMath training and technology.
Before Use
Keep the diffuser out of reach of children.
Do not allow water to come in contact with the main device and USB cable.
Do not throw or subject the diffuser to shocks.
Seek expert's opinion and use with caution if pregnant, have epilepsy, sensitive skin or high blood pressure. Do not insert foreign objects into the air inlet, air outlet or USB port.
Usage
Always use interchangeable pods supplied by the original manufacturer.
Do not touch the fluid if there is leakage from the battery.
Keep the diffuser at least 5cm from the nose when inhaling.
Do not place the diffuser near the face when replacing the pod.
Do not point the air outlet to the eyes directly.
Do not use the diffuser in a high-temperature environment.
Stop using if you feel uncomfortable or there are allergy symptoms.
Stop using if there are any abnormalities such as unusual smell, noise or overheating from the diffuser or USB cable.